I read on Already Pretty that sleeveless dresses became the norm a few years ago in part because designers find them easier to design. (Apparently, designers think it's hard to design an attractive sleeve that is not overly constricting.) Be that as it may, working women need at least a few dresses with sleeves, so I am always on the lookout for short-sleeved and long-sleeved dresses.




Behold my ultra modest and tres femme Orla Kiely dress from A/W 2014.



This dress is made of a stiff jacquard fabric with a lot of structure; it's half wool, half polyester. Normally, I avoid stiff fabrics because they tend to overwhelm the frame of a small person, but this one really showcases the cut of the dress.

For instance, the split neckline is quite deep. With a floppy, soggy fabric — (ahem) a fluid fabric — the neckline would be drooping and showing my bra, but this stiff fabric stays in place. No exposure! This is one of my top goals in the workplace.



Another thing that I love about this dress is that the kick pleats in the back are not slit — they really are pleats. So there is a lot of freedom in the skirt of this dress, but again, no exposure.




If you look closely, this dress is not black. It's charcoal grey. The grosgrain belt is black. The modest contrast — texture and color — add a little interest.

Click on this picture to see the jacquard pattern.
Why is there cat hair on my dress? Two reasons: first, there is cat hair on everything I own; second, Harper came into my orbit.
I went looking for some long-sleeved dresses for you on YOOX. Here's what I found.



I am including this last picture because . . . I look like such a boss. Don't I? Wouldn't you totally accept direction from this person?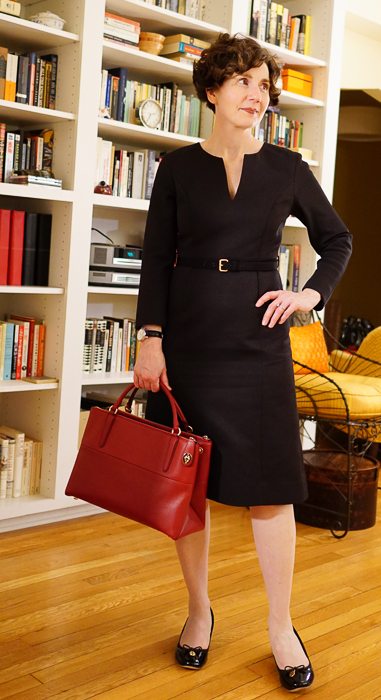 Have a fantastic weekend!
Dress: Orla Kiely; Shoes: Tory Burch; Bag: Coach Borough bag; Watch: Michele CSX