First things first: We are in Chile and these early photos were taken in Santiago.

As I mentioned in my last post, I relied heavily on dresses for this trip. My thinking was:
Fourteen days is a long time; that's a lot of tops, pants, and smart jackets. Perhapsleberry, too many tops, pants, and smart jackets to fit in standard suitcase. Dresses take up less space.
This dress is made of an extremely light cotton-silk fabric. It is so light that it is see-through when backlit and therefore requires a slip.
That brings me to my second requirement. I chose dresses with long sleeves for two reasons: first, I thought the temperature would be around 70 degrees Fahrenheit; second, I didn't want to have to worry about sunscreen for my arms and shoulders. Yesterday's yellow dress, with one long sleeve, is the exception.

How fun are the sleeves?
More fun than a barrel of monkeys.
It did occur to me, though, that I might look to a stranger — or a country full of strangers — like a refugee from a religious cult that requires ultra-modest dress of its women.
These balloon sleeves are managed with elastic smocking that runs across the shoulders down the bicep and in a deep cuff around the wrist. In between all that elasticized stitching, it's free range.
The smocking runs across the entire bodice down to the natural waist. It's a clever way to get a tight fit through the top to balance the full skirt, which bells out from the natural waist.
Come closer and take a gander at the sleeves.
And now, enough of my yammering about clothes. Let's take a look at Santiago.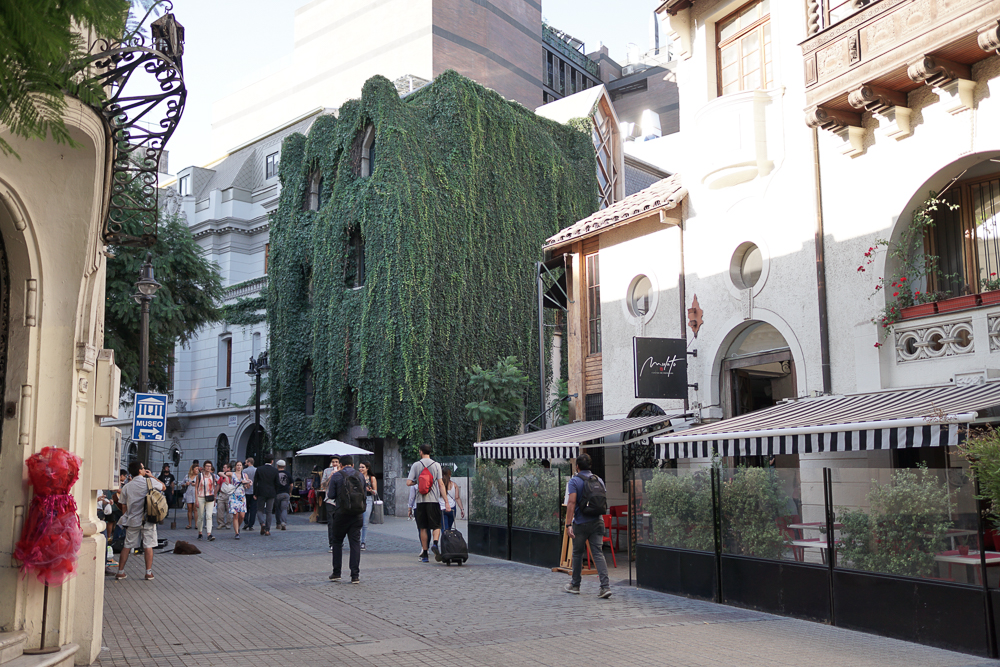 We stayed in Barrio Lastarria.* This shaggy building looks like an art installation, but it's not . . . although the Museum of Visual Arts was next door and both buildings were just steps from our hotel.
The Museum of Visual Arts was a beautiful space showing contemporary art, including several large installations. Opposite is one of three rooms showing the work of Bocso Sodi, inspired by the mystery and power of nature. In particular, lava.
One of the other exhibits in the space was a collection of archeological artifacts suspended in an enormous (20 feet long and 8 feet high) display case; the suspension of objects was intended to represent the illusion of possession and movement of material things through time. I think. It was visually stunning and intellectually provocative.
And now, I must ask the question that may touch off a flame war that lasts 100 years.
For a long trip (10-14 days), do you think it's better to travel with two smaller bags (e.g., a checked suitcase and a carry-on duffel or courier bag) or one huge suitcase? We each packed one suitcase to check (22″ x 16″ x 9″ — expanded by 3″ for a total depth of 12″) and then carried on board collectively one small suitcase, a courier bag, and our personal bags (a handbag for me, a manly satchel for him).
I think smaller bags are the better approach for three reasons: (1) I (personally) can lift each bag; (2) airports provide trolleys for corralling the bags between baggage claim and a taxi, and; (3) risk is diversified — the airline can't lose all the bags. But I am interested in your strategies and am open to persuasion!
More photos of Chile — photos without me and my dresses – and travel commentary to come.
Dress: Ganni; Shoes: Doc Martens
* Note to Linda: We did go to the Providencia, but we didn't stay there.