I walked down to Georgetown last weekend to look at furniture, as part of my apartment re-fresh project.



If I had spent the day at home, I probably would have worn exercise clothes. But one wants to look a little smart when shopping, right?

You've seen this outfit before, although I wore it with a two-color belt.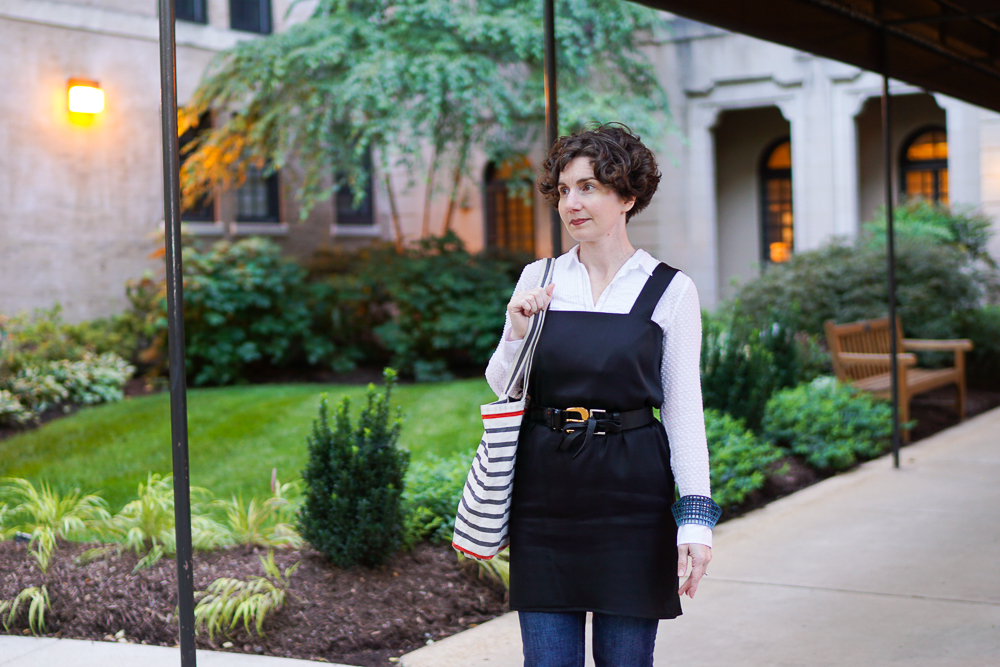 For an afternoon of walking, I wore sneakers — FUN SNEAKERS — instead of flats. I
could have
done the walking in flats, but it was better for both feet and footwear to not.
In the course of my furniture safari, I happened upon a wonderful jewelry gallery:
Jewelers'Werk
.


As so often can happen on this type of mission, I didn't buy any furniture. I bought a bracelet instead. It's on my left arm.

Can you see that it is awesome in this photo?
Such a treat to find this gallery right here in Washington D.C.

It's the size of a postage stamp — a perfect, intimate space in which perhaps 50-60 pieces are elegantly displayed on rough white walls and ledges around the perimeter. And then many exquisite things, hundreds, are stored in flat shelving built into an island at the center of the gallery. I was allowed — nay, invited — to paw through all of them!


Do you need a larger photo to see the awesome?

Check it out! 3-D printed, then dyed.

Is it a cage? A matrix? A portal?

I'll give you a few perspectives.

This particular outfit — with an asymmetrical dress and two-headed belt doesn't really need a third statement piece, but the bracelet fits in rather well don't you think?

The gallery had a number of bangles in different shapes and colors and it was very hard to choose. Very hard. Indeed, I am still re-playing my choice. I decided — rightly or not — that this particular blue would be very effective with black or grey in the winter.

The onset of cooler weather does raise one complication. I don't know that this bracelet will fit easily inside the sleeves of my coats and jackets. In that case, I can tuck it in my bag and put it on when I arrive at work. This is a minor inconvenience for the larger enjoyment of looking at it throughout the day.

Bracelet by
Maria Eife
at
Jewelers'Werk
Dress: Maison Margiela; Belt: MM 11 (Maison Margiela); Blouse and jeans: JCrew; Sneakers: Nike Cortez custom designed by The Directrice Herself; Tote: Les Toiles du Soleil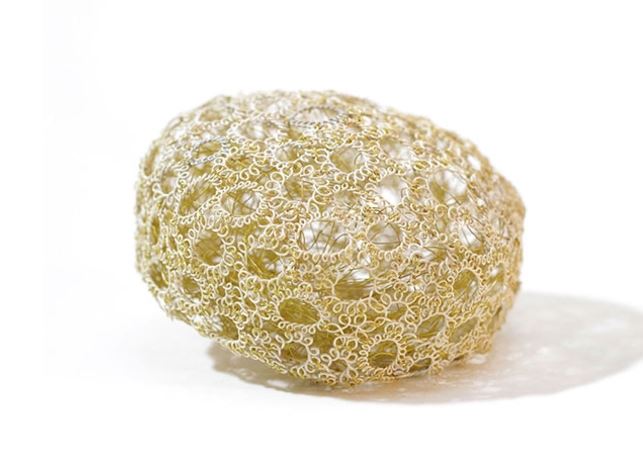 * A micro-caution: The finish of the bracelet is a little rough, so I would be careful about wearing it over certain fabrics (silk) or fine knits or against jacket/coat linings.