Can one have multiple obsessions? Or is that impossible? Spreading one's attention over several obsessions would seem certain to dilute thoses obsessions to interests. But as the tennis fans among you know, John McEnroe did refer to multiple nemeses (and the fact of having more than one nemesis) with no such sense of limitation in his memoir, You Cannot Be Serious.



Let's assume that I am capable of sustaining numerous obsessions at once.

Here is one of them: fELt JEwelRy.

A colleague bought a spectacular, 4-D piece at the Phillips Collection shop in Washington D.C. that motivated me to scour Buenos Aires for more of the artist's work — which I had been led to believe, by her website, would be there.

Alas, I did not find any, but the search did lead me to the Autoria Shop, which yielded other benefits that you have seen and are waiting to see.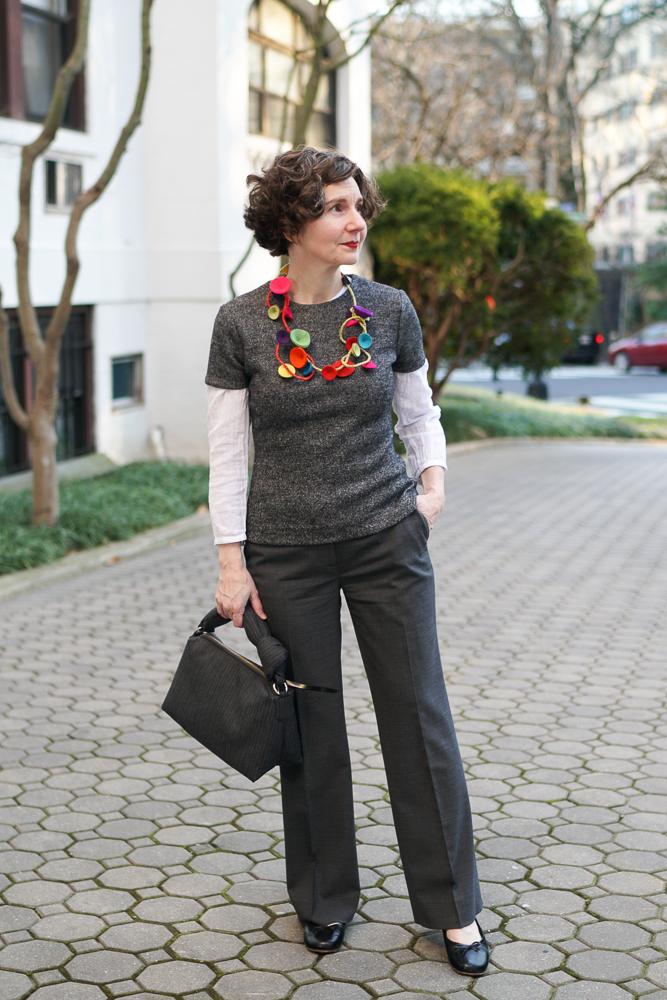 When I returned from my vacation, we visited the Phillips Collection and bought this necklace.
I should clarify: we each bought a necklace.
Matching necklaces! This is better than my effort to make
rainbow Supergas
the official footwear of my practice group.



Neither of us could resist something with this much life in it.

She sees a conspicuous octopus, possibly Inky the Octopus Who Escaped from the National Aquarium of New Zealand. I see an instrument from Dr. Seuss: a Seussaphone.

It's one long strand and could be worn tripled around the neck. But because I don't like things bunched up on the back of my neck, I have instead tied four loose knots in the strand and worn it singly.


Come closer and see if you can see what I've described.

What do you see here?


It also looks like a little like a collection of Bugles. I don't mean the instrument. I mean the oddly-shaped corn chip.

Note how thick this felt is. I am intrigued to know more about this super-felt.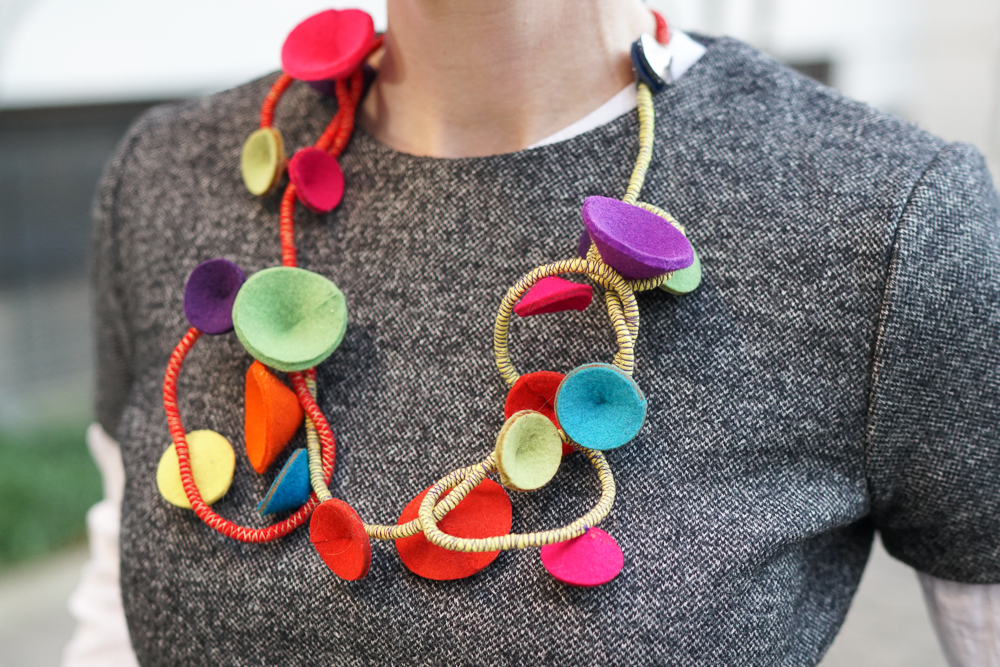 The necklace closes with a snap made from silver foil-finished leather.

I thought the closure deserved to be brought into view.
For those simply hoping to catch a glimpse of the Most Handsome Creature in The World,
I give you:
Knit top: DSquared2; Blouse: JCrew (this is turning out to be a very useful blouse); Pants; JCrew; Shoes: Taryn Rose; Bag: Dries Van Noten; Necklace: artist unknown, but purchased at the Phillips Collection gift shop