Realizing, as I did last week, that some of the things that I consider staples have not been commonly accepted as wardrobe basics ("Ten Things Every Woman Must Have in Her Closet!"), I thought I would start building the case for them.

If I do my job well — and I am a trained advocate — perhaps my list will replace the traditional list at some point. Sort of like the modern list of wedding anniversary gifts replacing the traditional gift of cotton (huh?) with china (hmm).



We begin today with Utility Jackets in Fatigue Green.

At the start of the pandemic, I had three.




That seemed excessive to me, so I gave one away.


And then I bought two more.

Huh?

Strange times, my friends, Strange Times.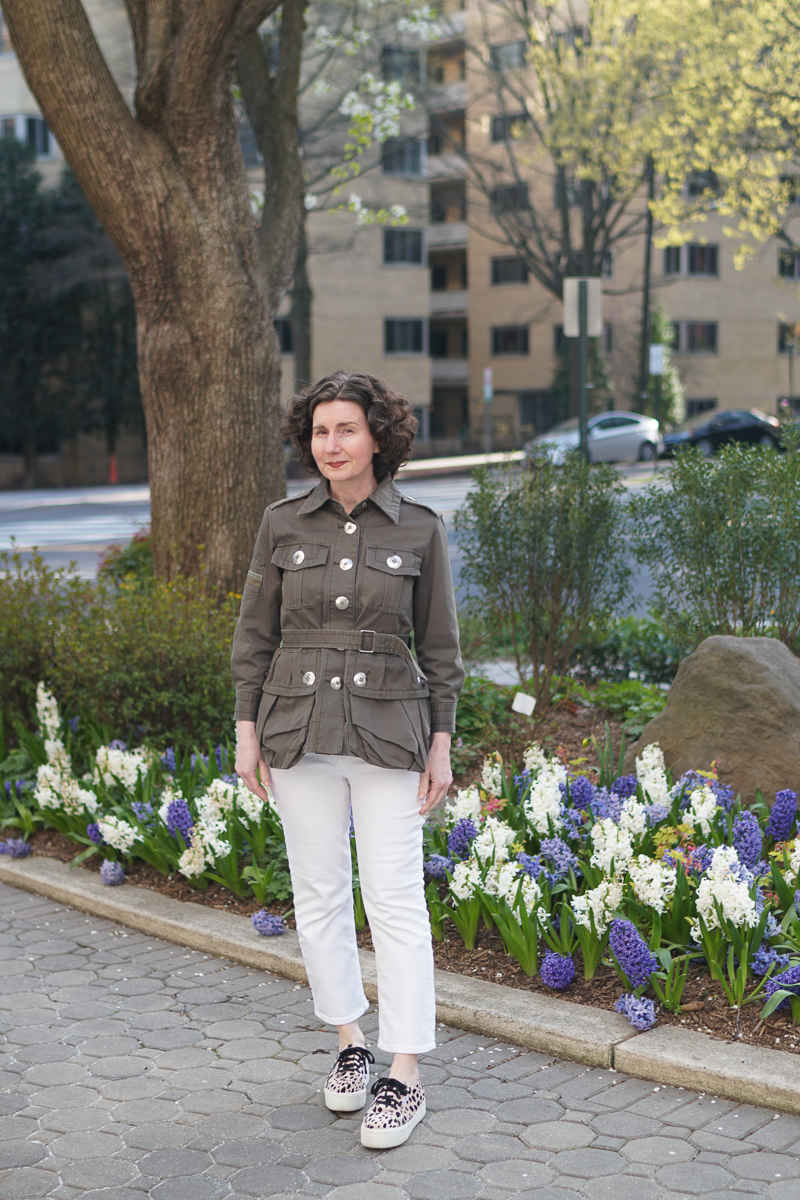 Is this revelation less damaging if I tell you that this jacket only cost $40 on The RealReal?


What can I say? I like fatigue green utility jackets. I think they have almost limitless utility.

They look great with a white linen or cotton dress or a black knit dress in the summer. See how fresh my old jacket looks with a tiered, linen sundress.

They are perfect with a white blouse and khakis, blue denim or white jeans. Though if I were wearing white jeans, I might change the white blouse.

They come in a range of greens — and can run toward light or dark brown tones.

Most importantly, they are the perfect complement to a weirdy green top or dress.



Superfan I am.



Let's take a quick walk around this one.


The belt is a must. Without it, the waist on this is something like 40 inches. Despite all that fabric — which is a mid-weight cotton, it cinches gracefully.


The pockets sold me. Observe their elegant origami-like folds; know that those folds are like gussets and will expand the pockets to unprecedented volumes.

These pockets are big enough to allow me to hoard toilet paper on my body. Or, to carry a mask and a back-up mask, a retractable 50′ measuring tape, my phone, Directrice "business" cards, and sunglasses in one pocket and two glazed doughnuts in the other. Everything I need to have a great day.



The only thing I am not certain about is the buttons. Are they too much? Too much metal? Too much contrast? Would horn or black be better? Share your views.

I forgot. Depending on how this almost entirely off-camera jacket (to the right) chooses to self-identify on the census, there could be five army green utility jackets in my apartment. But I think this one — which I've owned since 2006 — is brown. It's another favorite and I don't know if you've ever even seen it.