I was having breakfast with my best friend last weekend and she told me that she marvels at my continuing ability to develop content for this blog. "So many outfits, so many ideas," she said. I warned her that at some point, the well would run dry.

But we aren't there yet,
mes amis
!*
No, we aren't. Check out my extreme shirt.
Note: It was unseasonably warm in D.C. on Saturday, making this outdoor shoot at
Soapstone Market
possible.
Perhaps from this angle, as you sit back in your chair, the shirt looks pretty ordinary.
You might want to lean in now.



You think I would characterize oversized cuffs as extreme?

Non. There needs to be more.



The Photographer says that he finds this outfit a little scary.

He is, however, a little intrigued.

I think his reaction was shared by many of the people who walked by while we shot these photos.




But who cares about them. What do you think?



If you are thinking, "For the love of all that is holy, Directrice, do not wear that striped circus tent to the off–"

Too late. That ship has sailed. We've been to work. How do you think the back got so wrinkled?
From top to bottom, we have:
a pale blue and white striped shirt, gathered with a grosgrain tie at the waist;
a floral camisole, peeking out from the hem of the shirt;
navy pinstriped pants;
a glossy blue tote, and;
black shoes, because I don't own blue shoes.

In large part, the genius of this shirt appears in motion. Thus, I will show an unusually large number of photos taken at rapid speed.

The Photographer asked me to twirl.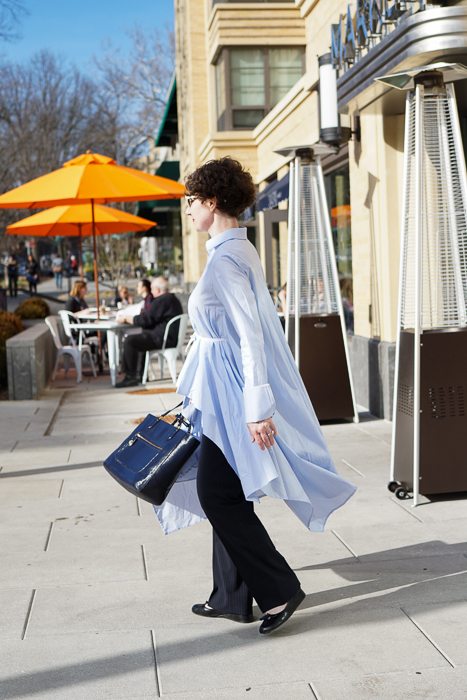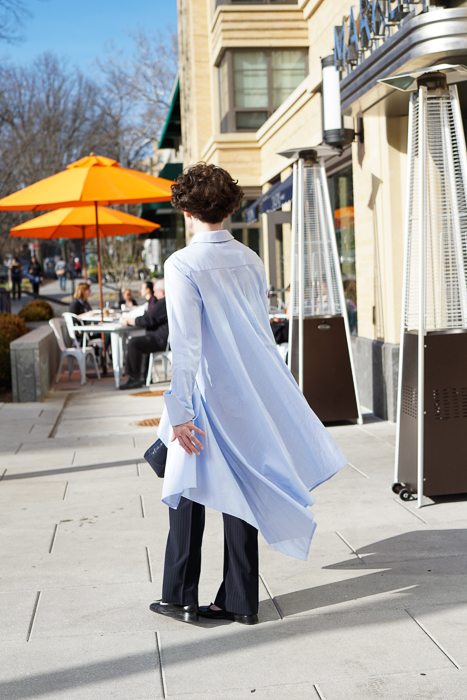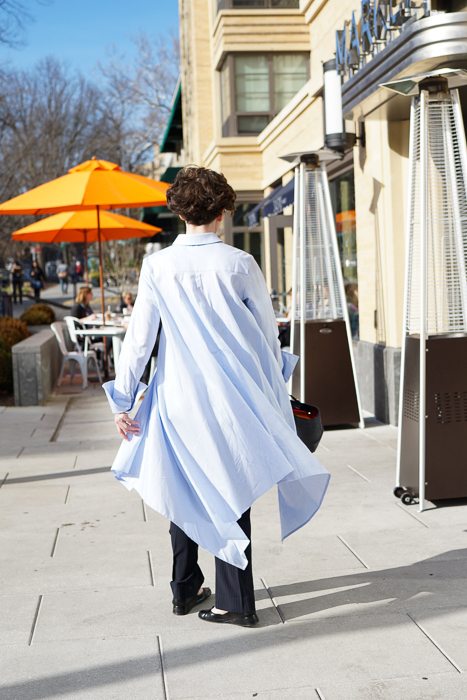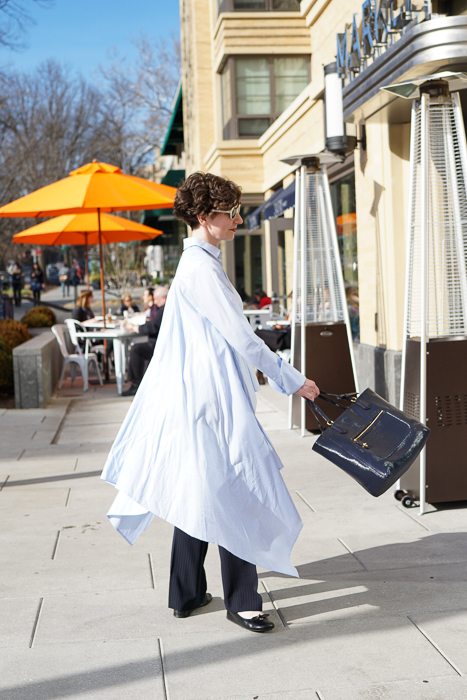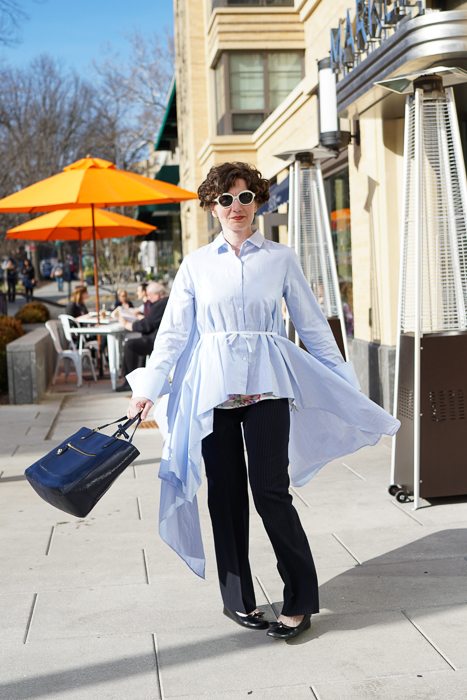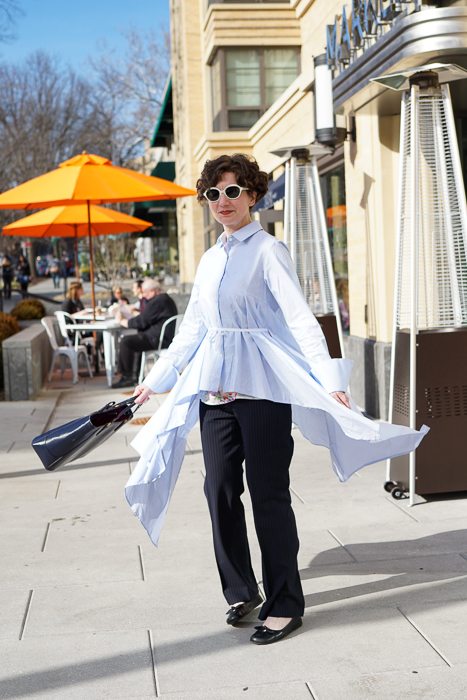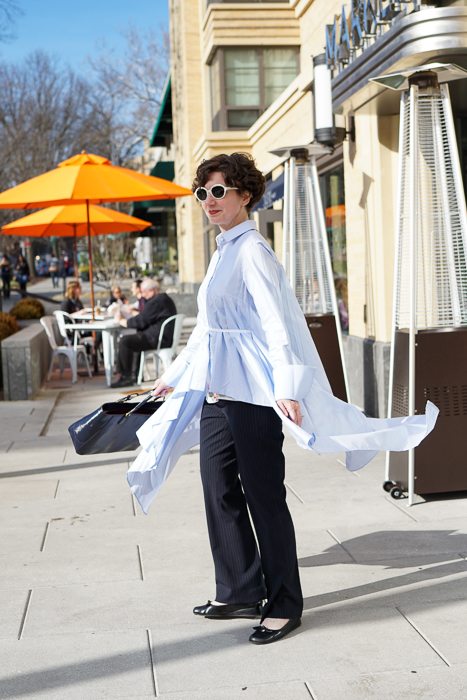 And stop, flutter, rest.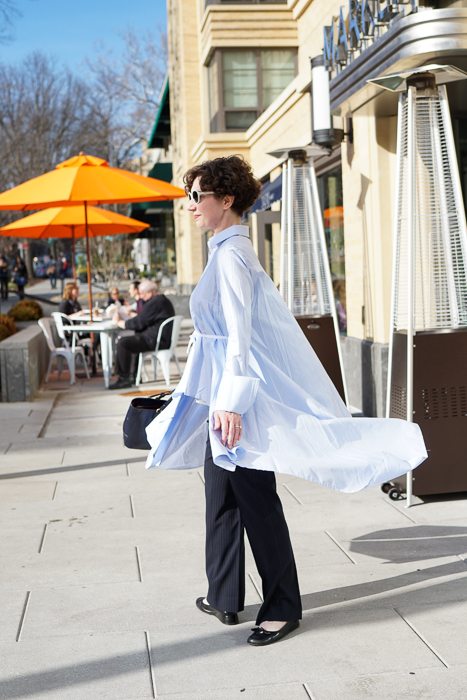 For those who want more, we made a short film, The Directrice: Walk This Way.

We've popped into
Soapstone Market
, after taking advantage of their outdoor seating as a backdrop to the photos.
I love this place; they have a section of shelving devoted to s'mores. It's exactly what a neighborhood market should be: everything you need to bake brownies (from a mix or from scratch); everything you would need for a cocktail party; a dozen kinds of jam; wood floor cleaner; wrapping paper, and: a soda fountain.




Shirt: Palmer/Harding; Camisole: Theory; Pants: JCrew: Bag: Coach; Shoes: Lazio Collezione; Sunglasses: Elizabeth & James

*Pere Directrice wrote this morning with a correction on my use of the possessive in French. I studied Spanish in school. I have left the noun in the masculine form because I have male and female readers.