When I decide on a goal, I can pursue it very single-mindedly . . . well past the edge of reason and good sense. Remember Operation YeLLoWbAG?



Here, I confess that my search for a statement white blouse did not end when I found one.

No, I continued to look and thusly find myself in possession of three — except that I have designated the one featured here for layering.




You may be looking at these photos and saying to yourself, "That doesn't seem like much of a statem-"

Patience, patience.


Shiver me timbers, mateys.

It's a lace-up blouse.










NB: The Photographer labeled this set of photos "straitjacket."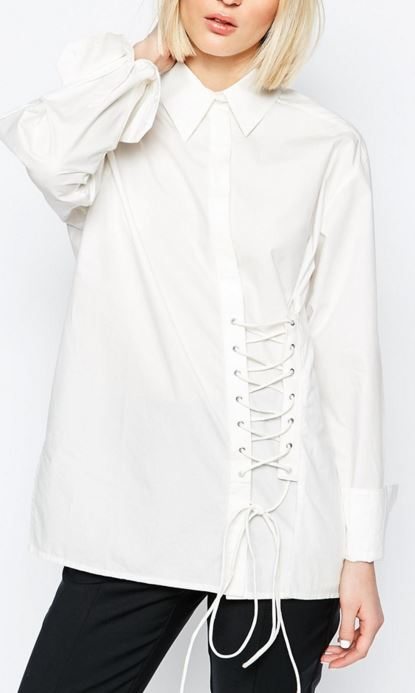 As you can see above, all of the lacing is done on the model. I, however, just wanted to use the lacing to cinch the blouse above my waist and therefore unthreaded the bottom eyelets. Then I trimmed the lacing that came with the blouse (snip snip) to get rid of extremely long, dangling ends. That white lacing could be replaced with a shoe lace or a thin ribbon or cording; using a contrast color (black, navy, red) might be really sharp.


The blouse doesn't fit quite well enough to be worn on its own –it's too big through the shoulders — and is too boxy and stiff to fit under a sweater. But it's just right to wear with a little jacket.

And who is more needful of an irreverent young companion than this tenured tweed blazer?

The side vents and inverted pleat created by the lacing give the blouse some shape and movement that make this look more interesting than a regular button-down blouse would.

Agree, disagree?

Have a fantastic weekend!
Jacket: JCrew; Blouse: Weekday Nicky Lace-Up Blouse from ASOS; Jeans: JCrew; Boots: 8 from YOOX