I am such a fan of sweater dressing. Beloved knits!

When I started working at my firm (now 15 years ago), I invested in a few knit jackets and knee-length skirts from Eileen Fisher. I am still wearing them today. They aren't on the cutting edge, but with a great pair of boots, they are always appropriate, timeless and polished (true virtues) — and the weight and quality of the wool is quite luxurious.

In a burst of acquisition, I also seem to have bought a few long skirts from Eileen Fisher in the early 00s (this, before maxi skirts had become mainstream). I put them away a few years ago (around the time that maxi skirts became mainstream, which must mean I have a contrarian streak), but figured we weren't through. I was correct; last week, I had an idea.


I had an idea.
I never said I had an earth-shattering idea, but you must admit that the Doc Martens save this outfit from being predictable. I bought these DMs last spring. They came with white laces — described by the clerk as "dress laces" (Is that so? said The Directrice with a straight face) — which I replaced with black laces for graphic effect. And to make the shoes less white, because I am still not entirely sold on white shoes.



Rather than a cardigan over these knits — which might move this ensemble from "sweater-dressing" into "blanketed" — a little jacket. In the interest of making it more youthful, I selected a denim jacket, which, ironically, is a relic from my law school days and thus even older than the knits.

As I look at this picture, I am convinced that white shoes are really the key here. I don't think comparably assertive shoes in black would have the same impact. What do you think?


Finishing things off is an iridescent patent leather bag which, depending on the light, looks purple or green.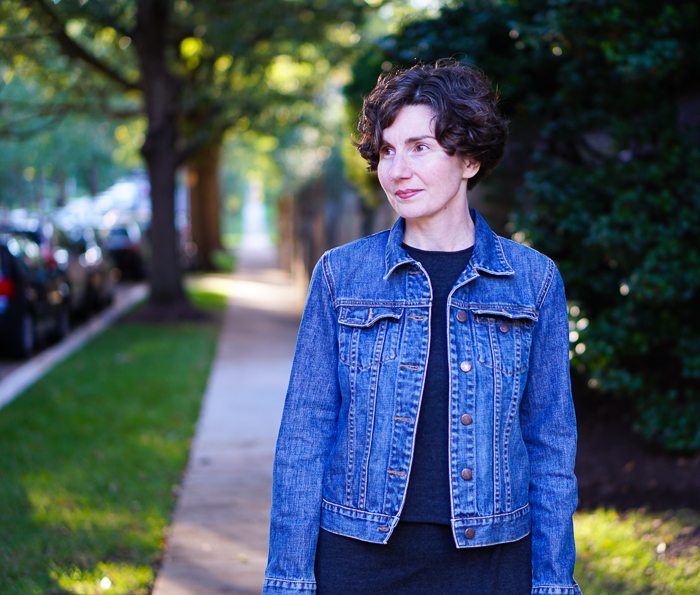 I went looking for newer, better versions of my things for you, and this is what I found:


I like these dresses, but they have a different silhouette than my skirt does; my skirt is a little a-line, a little bias-cut.

Interestingly, Eileen Fisher is not selling sleeveless wool shells, a mainstay for the company, this fall. Maybe they will come, deeper into the season . . .

Eileen Fisher skirt from Eileen Fisher; JCrew jacket from JCrew; everything else from Shopbop
Shell and skirt: Eileen Fisher; Jacket: JCrew; Shoes: Doc Martens; Bag: Car Shoe