Do you know about Universal Standard?


I did not until very recently. Somehow the JCrew x Universal Standard capsule that I saw on the JCrew website several years ago failed to register. I thought it referred to a revolution in sizing, not a brand name. An opportunity lost.
Universal Standard is a relatively new, internet-based women's clothing start-up based on three basic ideas: (1) that stylish clothes should be made across the size spectrum; (2) that quality clothes should be thoughtfully fit and fabricated with premium fabrics for a cost that, while not cheap is not prohibitively expensive; (3) that easy customer service should be an integral part of the clothes-buying experience. These are my words, not Universal Standard's. You can read their words
here
. Read the whole page; it's very interesting.



Behold this charming shirt dress in a lively, irregular navy stripe on white.

The fabric is a cotton sateen that is still lustrous and silky after one machine washing. According to the care instructions, one could tumble dry, but I don't know about that.

Is anything better than a loose shirtdress for late August heat and humidity? Don't puzzle over this question. The answer is NON.




I cannot retrace the steps that led me to this dress, but as soon as I saw this photo, I was hooked. Can you see why?

The model is wearing my hideo-marvelous Dr. Marten sandals.

Said I to myself, "She looks great and I, too, will look great."

In these photos, I am wearing my black patent leather sandals because they were handy. I did realize, however, that my white DMs are in the apartment. Purchased last summer, they were never "put away" at the end of the summer because the seasonal footwear swap (closet-to-storage bin) never happened.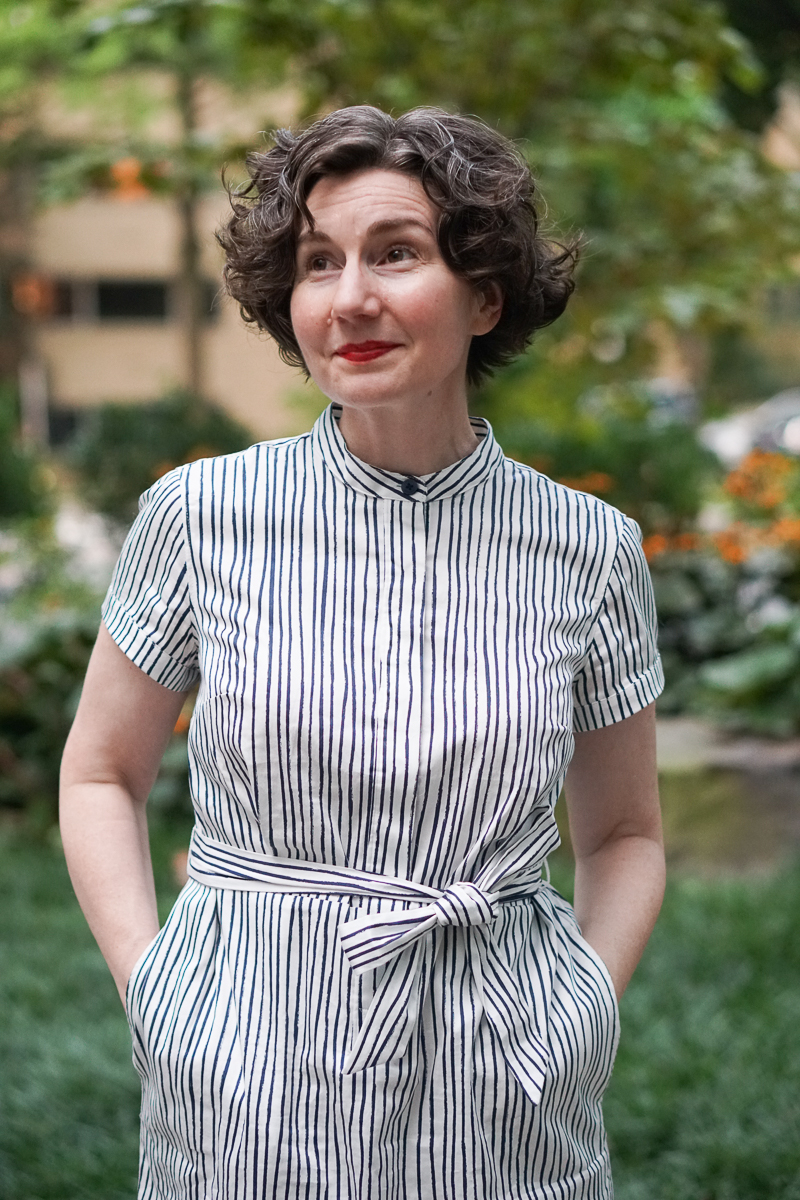 If you visit Universal Standard, be sure to check out the Erdem collaboration. Just search for "Erdem" and you will see charming floral blouses and denim pants.

This dress will be perfect for travel, including diplomatic dressing on international vacations, if I ever leave the United States again.

It will also transition well to fall, with hideo-marvelous loafer slides and a short denim jacket.
The self-belt is the simplest belt option, but I tried it with the
weight securing system
and a skinny leopard print belt just to test its range.
The options boggle the mind.


The Photographer and I need to finish our Berkshires entry, but to tide you over, I'll share this.

The Clark Institute has several John Singer Sargent works.

Of all the beautiful and striking Sargent portraits of women, at the Clark and elsewhere, this is the woman I want to be. Doesn't she look merry?
Dress: Universal Standard
Santorini Fine Cotton Shirt Dress
, currently on FINAL SALE