Continuing our discussion of Dark Colors Light Fabrics, I'll take this opportunity to re-affirm that blue and black are an effective color combination, and an alternative to all black.



The Photographer labeled these photo files "slightly-scary-frilled-dress."

DoES hE NoT rEad THis bLoG?

Does he still not know the difference between a DRess and a SKiRT?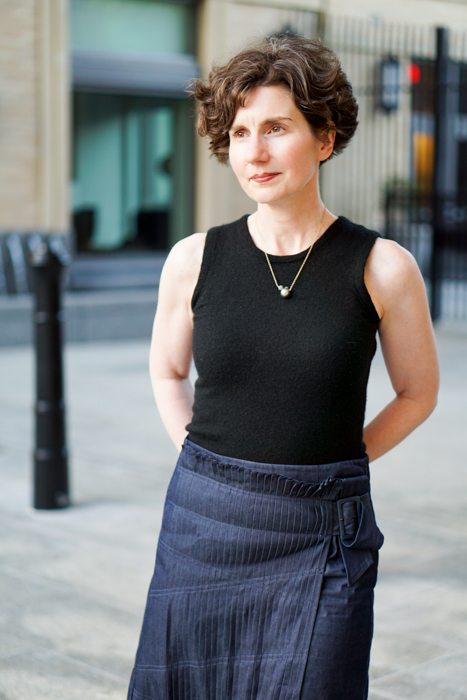 I think the key to mixing navy and black is two-fold.

First, the colors do need to be distinguishable in artificial light. You know how sometimes you put on a pair of black trousers and socks in the morning and realize when you go outside that your socks are actually dark blue? That's not mixing; it's mistaking. (This has happened to me.)

Second, the navy needs to have some life to it. I realize this is a vague piece of instruction, and if I had some formal training in color theory I could probably explain in terms of value, intensity, or tint. But I don't. So I will instead offer two descriptors: inky and denim.



This skirt falls into the denim category.
Did you wear wrap skirts in the 70s and 80s? Then you will remember that they were
nothing but trouble
. Always flying open. This one is anchored securely at the waist and is wrapped with lots of overlap, so even though the breeze is playing with it, it will not fly open.


Complicated details — top-stitched knife pleating, buckled self-belt — make this skirt sophisticated, even though the fabric is a humble denim.

Actually, the fabric looks like humble denim, but is both lightweight and structured enough to be worked into these pleats and then maintain them. Clever, clever denim.


Stay cool!

I'm off to the beach for an annual visit with college friends. I'll be covered in sunscreen, wearing a hat and sunglasses under an umbrella. You will see no difference in my after-beach photos.
Posts will continue to roll out on Thursday and Monday!
Skirt: Tibi
Manuela Pleated Cotton Midi Skirt
; Top: JCrew Featherweight Cashmere Shell; Shoes: Donald J. Pliner
Fifi Sandal
; Bag: 3.1 Phillip Lim Pashli Satchel; Nacklace: Samira 13; Bracelets (worn with watch): David Yurman Cable Bracelets; Watch: Michele Urban with grosgrain watch-band