To those of you who responded to my last post, thank you for answering my question. We have a deal! I'll keep posting, you'll keep reading, and all of us understand that this blog is just a harmless way of connecting and amusing one another for a few minutes each day. We all deserve that.




Fun over. Now on to serious business. Let's talk about Zoom.

I am a fan. I don't want to spend more than an hour or two on Zoom each day, but I find it very helpful for large and small meetings and quite delightful for small social events.

I have a few tips.
What to wear, what to wear. Tap, tap, tap.
Screeeech! Before we dive into clothing, let's start with first principles.
1. Your Appearance On Zoom Is A Self-Portrait. On Zoom, you are literally presenting yourself as a picture in a frame. Whether you take care or not, you are composing a picture that has a subject (which may or may not be you), a foreground, and a background. It may also include themes, symbols, and subtext. Therefore, you may want to choose everything that appears in the frame. Consider, if you will, the symbolism and signs in Van Dyck's portrait of
Isabella Brant
.*
2. Dress Up For Zoom. It will lift your spirits. And, whether or not anyone else consciously realizes it (or articulates it), dressing up will raise the mood of the group. Wear lipstick — unless you never wear lipstick, in which case you don't have to start now. But you might want to start now because lipstick is actually fun and easy. It's one of the simplest pleasures of my adult life.

What to wear. What. To. Wear.

Now is the time to bring out your parade of pretty blouses, shirts, and tops.** In general, I think that bright colors, solids, and simple patterns (stripes, checks, polka dots, simple florals) read best on Zoom. Wraps or ponchos (in bright or pretty colors) also work very well over a white blouse, which, as you know, will provide a bright frame for the face. I also like a large printed or striped scarf wrapped around the neck a couple of times; this, too, will set off your face. An architectural Comme des Garcons top made out of three different black fabrics? Sadly, that may be read simply as a lumpy tee-shirt.

If you are wearing a solid top — particularly a sweater — a necklace or brooch is a nice touch. It needs to be large enough to register . . . which might mean that it needs to be, objectively, large. Very delicate jewelry is less likely to be noticed.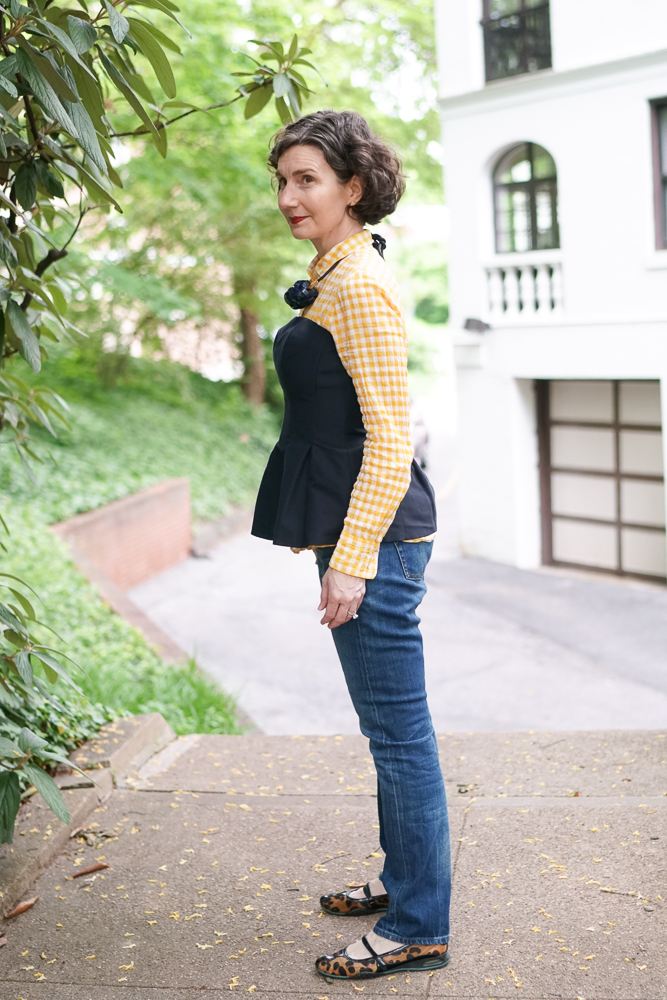 One reader has already asked: Are "statement necklaces" too much for Zoom? I don't think so. But I would not wear a statement necklace with a patterned blouse in front of a busy background. That would be too much activity. As crazy as this might sound, in a two-dimensional format, when you are reduced to the size of a baseball card, the background is actually one of
your
layers.
While very little of you will appear in the frame, you must be fully dressed! You never know when you might have to stand up to get something and forget to "Stop Video." I recommend presentable but comfortable pants: action slacks in a neutral color, khakis, or jeans.

As to the rest of your picture, here are some suggestions.

1. Make sure that you are positioned in front of your camera so that your head, entire face, neck, shoulders and upper chest are in the frame and take up one-third to one-half of the space in that frame. You need to be facing the camera directly (with permissible 10-20 degree angle, if you do not want to look head-on at the camera), but you do not need to be perfectly centered in the frame. Your head should not be disembodied, resting on the bottom of the frame. Neither your nostrils nor your ceiling should be visible. If you are typing, no one should be able to see your hands. You may have to put a few books under your laptop or monitor to get the camera at the right height.

2. Make sure that you are properly lit. Ideally, you should have an even light shining on your face — natural light from a window or artificial light. If you do frequent Zoom meetings with performative elements (hearings, presentations, pitches, speeches), you should buy a couple of clamp lights that you can move around as needed.+
3. If you are using your own house — kitchen, dining room, home office — as your backdrop, do take a quick look around to see what might appear in the frame. A piece of art is a treat! Clutter should be removed.

Final Note: Do remember that if you mute the audio on your computer, your colleagues will not hear you yell at your spouse or children, but they will see you yelling. You must "Stop Video" or cover your camera.
So now I have to ask: What is the funniest/strangest thing you have seen on Zoom to date?
* I am kidding. But at the same time, this is kind of true. I am loving the idea of people setting themselves up for Zoom calls holding and surrounding themselves with symbols of their interests and values —
e.g.
, sextant, peacock feather, kettlebell, scissors, golf clubs, piggy bank, binoculars.
** Because so much of my wardrobe is grey and black, I have made an effort to bring all of the colorful clothes out. For some reason, this makes me think of
The Bourne Identity
, when Conklin tells his team to bring all of Treadstone's deep cover assassins into the pursuit of Jason Bourne: "Get everybody up. Do it now. I want them all activated." I have
activated
all of the colors.
+ The Photographer set lights up for me. He had several clamp lights, having purchased them years ago to take indoor photos of me for this blog, and two light stands. Right now, the clamp lights are affixed to dining room chairs.