It seems to me that a post featuring a garment that is not only available on-line, but heavily discounted is sort of like a public service announcement, no?


Oyez! Oyez! All Hear This:
This Marissa Webb jacket is available on
Intermix
for $130, marked down from its original retail price of $695.
For those of you who do not excel in mathematics, note that the current price is listed as $259, but that a 50% discount applies in the shopping cart. Also note that this price is FINAL SALE.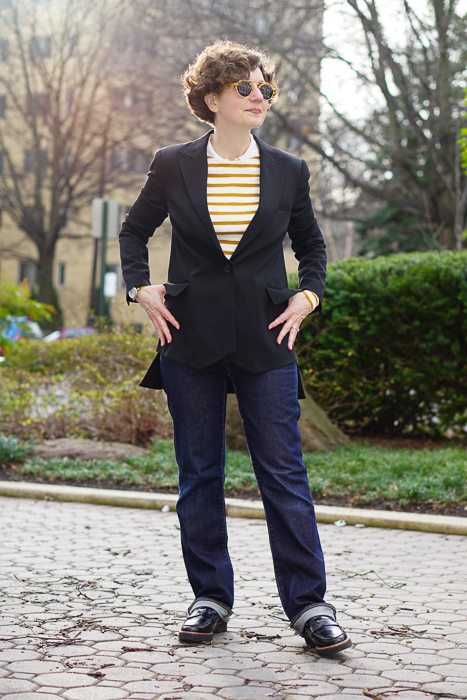 This jacket is a bit of a departure for me: long, unstructured, and loose. While I'll never give up my little jackets, one doesn't want to look in one's closet and see nothing but sameness. I think this loose, long jacket is just the sort of thing for casual Friday and the weekends. In fact, I went out for a late afternoon movie and dinner with my photographer this weekend and wore this very outfit.

In the photos above, you can see that the jacket draws some inspiration from a tuxedo jacket.

A side view reveals additional elements. The back is longer than the front, and squared off; like a tennis shirt. A wide band — a sort of abstract belt — runs across the back, and lines up the with the hem of the front. And there is a vented yoke across the shoulders that looks like trench coat styling.

Certainly an eclectic set of details, charmingly (in my opinion) combined.

The fabric is a wool/synthetic mix that feels like a fine gabardine (I guess it is a fine gabardine) and is very comfortable.
Jacket: Marissa Webb Nadeen jacket available
here
; Striped jersey: JCrew (you may remember it from this
earlier post
); Polo (under striped jersey): White+Warren; Jeans: JCrew: Shoes: Coach Indie Loafer also available on sale
here
; Sunglasses: Illesteva
Milan IV Amber
NOTE: Since the jacket is a FINAL SALE item, it might help you to know my size. I am 5'3″ and wearing a SMALL, which fits perfectly. Very unusual, that.