Continuing our CLE series, Directrice on Suits — which was largely initiated to prove to you that I do actually own proper suits and occasionally put them on my back — I give you . . . another suit.
You may remember that I said my suits range from
slightly dashing
to workaday?
This is my workaday suit:
This is the suit I put on when I don't want my clothes to be noticed, remarked or remembered. That sounds
so harsh
, but don't imagine that I am unappreciative; there are times and places where one really just wants to blend in and the workaday suit allows me to do that perfectly. It's a great suit.


Of course, I can't resist tweaking this shirt and suit combination a little. Thusly, you see that I have introduced a third element: what appears to be a black silk shell worn over my white blouse.


So, when the jacket is removed, there is a little something to take in. I'm not saying this outfit takes you from court to clubs — but it's a little interesting, yes?
At this time of year, I tend to
wrap up with a scarf
in the mornings. I drove off to a client meeting wearing this linen scarf a week ago and when I arrived at my destination (two hours later) discovered that the scarf had shed on my pristine white blouse and that the tenacious fibers gave the appearance of dirt smudges all over my collar. Lint-roller!
The lesson here is: keep a tiny lint-roller in your bag. Or, wear a silk scarf with cotton broadcloth.
Here is another scarf. This pea green is actually a better color foil to the grey, but the material is not nearly as cozy.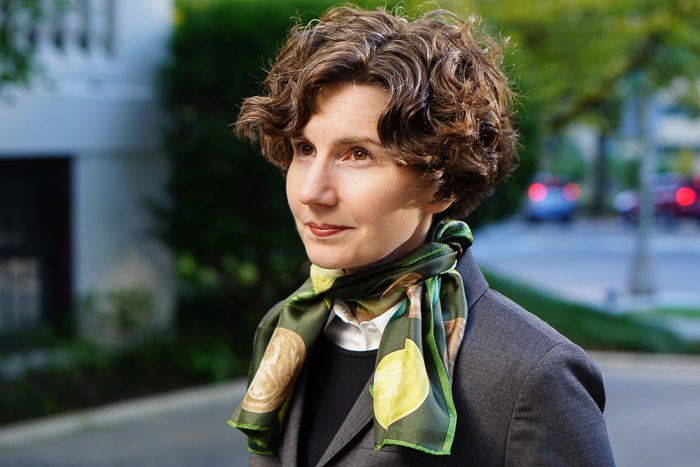 In order to get your CLE credit (.000000025 hours), you need to post a comment below.
Suit: JCrew; White blouse: Talbots; Black top: Tibi; Shoes: French Sole New York; Linen scarf: Lisbeth Mulcahy (Dingle); Silk scarf: Ann Taylor; Bag: Coach Gramercy Satchel
P.S. Happy Birthday, Desh!