I promised you a sparkly brooch as big as my face, but my fancy took me in a totally different direction this morning.




As I got dressed for the day — which was to include a board meeting and a couple of meetings requiring tact and decorum — I felt that it was time to debut a silk flower as big as my face.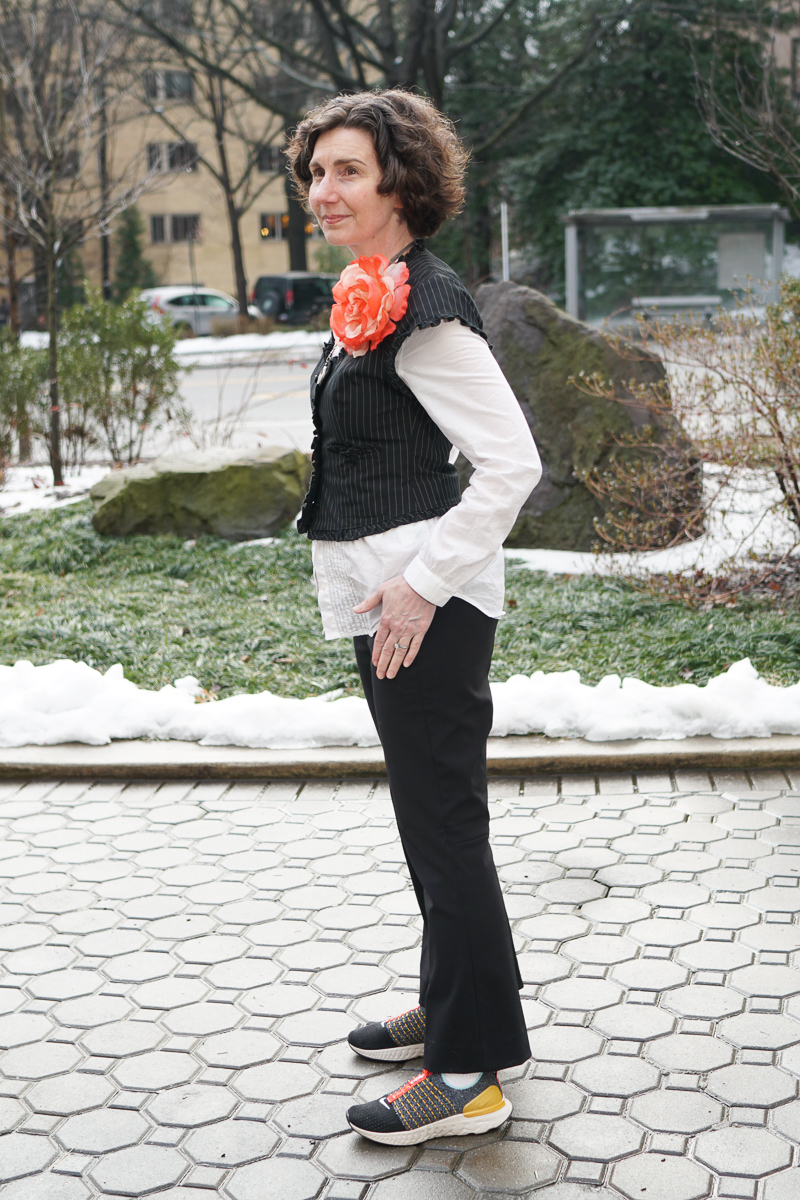 I've loved the idea of a giant silk flower pin since I saw Sarah Jessica Parker wearing one on Sex and the City. A few weeks into the pandemic, I bought one from
M&S Schmalberg
in New York. But I hadn't worn it until today.
This brooch
is 6″ across. My face is also 6″ across.
M&S Schmalberg sells even larger flower-pins. But the size of my face, at this point in life, is pretty well fixed.


It looks pretty jaunty pinned to my vest, don't you think?

I found this vest on The RealReal while looking for Gentleman Jack-like attire to wear with my Lilian Asterfield cravats. It was new with tags . . . from 2005. Perfectly preserved.

After putting on the plastic pants, a white blouse, the jaunty vest and the absurd pin, I felt something was missing. That the look needed just a little bit more.


A necklace was needed, that's what.

Ahhh. Just right.

I call this look "Steampunk Isolation."


I'll tell you a secret.

When you wear a brooch this ridiculous to a meeting, you don't have to say anything.



Listen to the brooch.

What's it saying?


For those wondering about the necklace, you've seen it before.
But here's a closer view.
To see more of the wonders of M&S Schmalberg and learn how they make these exquisite things, visit their
website
.
If you are looking for bright news and haven't seen NASA's short videos on the Perseverance landing on Mars, take 15 minutes to watch them. One video explains the
technology
and the other is
actual footage
from several vantage points on the landing craft and rover itself. The accomplishment is extraordinary and the enthusiasm and excitement of the NASA employees you'll see is infectious. Note: They are all wearing NASA polos. Perhaps after this
debacle
in 2014, someone suggested that employees at ground control should wear a uniform . . .
Big Sparkle next week!