September 1st seems like a dividing line each year between summer and fall — even though, technically, Labor Day can fall anytime in the first week of September and the autumnal equinox is not until September 23rd. September 1st says back to school for me and that means summer dressing is done. But in a city like Washington D.C., it's still hot in early September. Indeed, September 1st this year was unpleasantly warm and close. So how does one start dressing for fall when the weather is not cooperating?




I have two thoughts: sleeves and closed-toe shoes. Like this:
White blouses,
which you know I love
, make me think of school, which I associate with September. I bought this one at Shopbop toward the end of the summer (
I presented it to you first!
) and it is going to be very useful because of its sharp, defined collar and narrow, short sleeves. Come a little closer and
visit
the white blouse, as well as the silk tank I am wearing over it.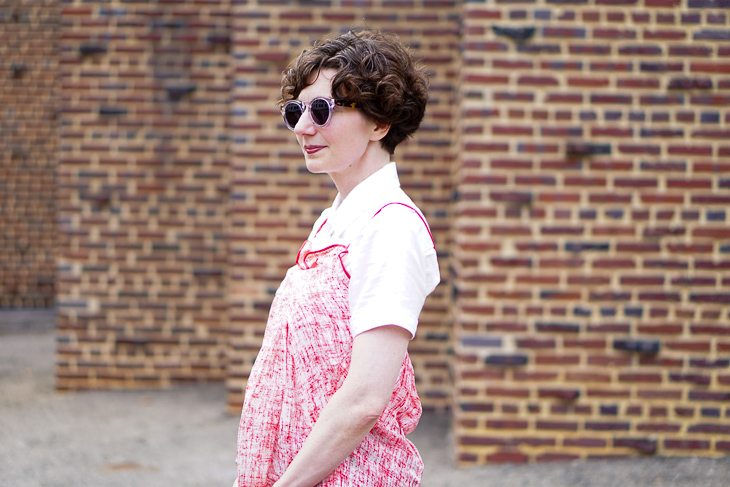 To finish things off, a cherry red watchband, grey patent leather flats, and a black bag.
But do tell: How do you transition to fall?
And now as a special bonus, a little information about the Directrice's methodology. I fit this blog into some of my free-time . . . but I don't have much free time, so photo sessions are capped at 10, 15 minutes tops. We get whatever we can get in that time and then I pick the best pictures to use in posts. (My motto has been, Every post can't be the best post.) Some of the pictures I like best are a little goofy or funny, ones that my husband takes while testing light and focal length settings, like this series: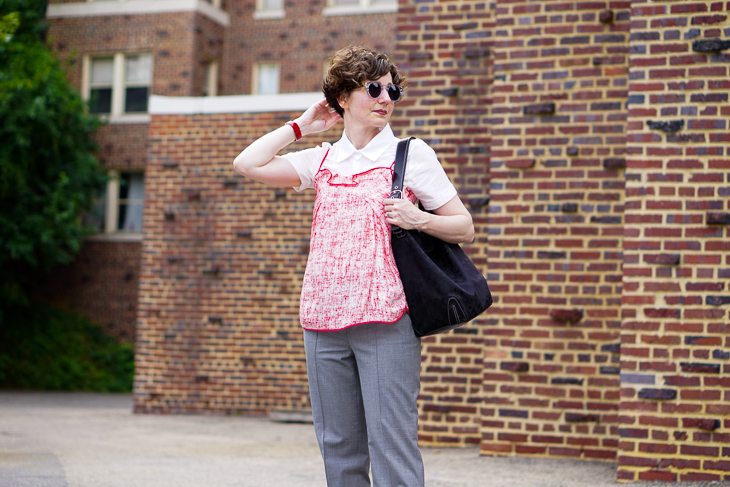 Silk tank: HaniiY; White blouse: The Lady and the Sailor; Pants: JCrew; Shoes: Bloch; Bag: Coach; Watch: Michele; Sunglasses: Illesteva