I am a total homebody, happiest when I am in the nest. My job requires some travel although most trips are short — one overnight, single-destination undertakings. Earlier this month, I needed to make two such trips back-to-back and realized that it made far more sense to make a one longer, single trip. More sense, but that meant packing more clothes!




As tempting as it may be to minimize packing by attempting to stretch one outfit, in whole or in part, to two days, I tend to think that's a bad idea because: What if . . . StaInS?

Two days = two complete outfits. The outfits should, however, relate to one another and foster Garanimal-synergies, but which I mean, you ought to be able to mix-and-match the pieces.



Here is Day 1 Outfit: Grey jacket, black blouse, black camisole, black pinstriped pants.

You haven't seen this jacket for
awhile
, but it is a favorite.


I like the simplicity of layered black; the different textures — crinkled cotton blouse,
silk camisole — provide enough contrast to make things interesting.


I particularly like the tiny collar on this blouse.


For Day 2, I packed an entirely different outfit: tweed jacket, red wool shell, white blouse,
grey pants. But as soon as I was fully dressed, I felt like I was boiling in my own skin.
The shell was too heavy. So, I borrowed from Day 1 Outfit.


A white blouse goes with almost everything.


In an effort to reduce wrinkling, I packed each outfit by dressing a small hanger, pants folded over the cross bar and the tops layered one over the other. Then I folded the sleeves in and folded the the whole outfit in half. Layering the clothes in this manner achieved the kind of padding and spaces that fancy retailers and cleaners achieve by packing clothes with scads of tissue paper. No wrinkles!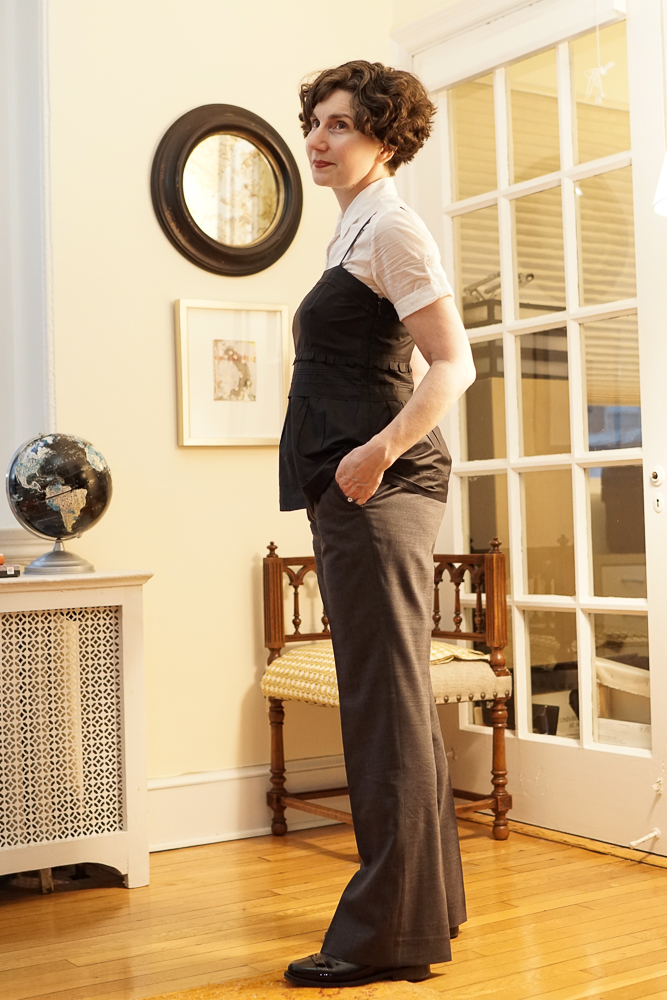 Since I started this blog in 2015, The Photographer has created a book for me each December of the year's best (and funniest) photos. After the Internet gives way to holographic brain files, I will still have these books to thumb through and remember.
Day 1 Outfit — Jacket: Vanessa Bruno; Camisole; JCrew; Blouse: Vanessa Bruno; Pants: Ann Taylor; Boots: 8
Day 2 Outfit — Jacket: Nanette Lepore; Camisole: JCrew; Blouse: Theory; Pants: JCrew; Boots: 8