After several days incommunicado, we can tell you where we've been and what we've been doing.


In case you haven't previously had cause to ponder the enormity of South America, allow me to share some useful information. It'S HuGE!! Keep in mind, we started in Buenos Aires, which is roughly midway between the north and south of the continent. We flew three hours south from Buenos Aires to El Calafate. Then we drove four hours south to get to Torres El Paine. Then we drove five hours south to get Punta Arenas where we boarded our ship so that we could sail to the southern tip of the continent.
I've been chuckling about this for a week. I
think
he was joking. If you haven't been to Punta Arenas: it is not the most beautiful city in the world. To be fair, we arrived on a Sunday and many things were closed (and not simply closed, but gated and locked) and empty — but even bustling with life I can only imagine it as a small city of average attractiveness.
In one of the observation lounges on the ship, we saw models of other ships: one, very lucky; the other, yes and no.
This photo gives you a sense of
scale
.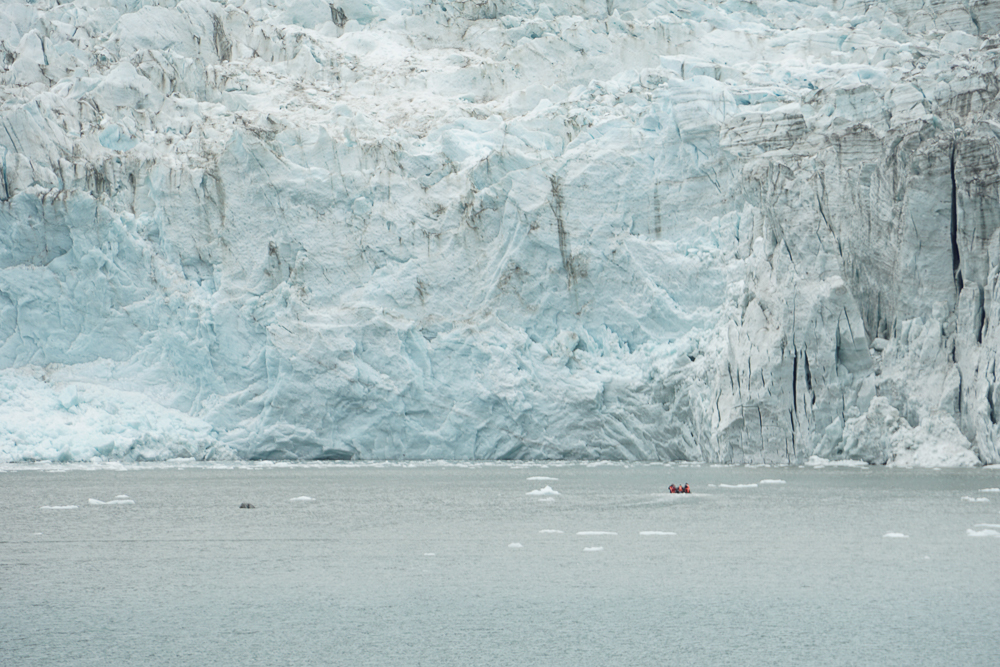 This glacier isn't the prettiest we saw. That's partly because it doesn't reflect the same brilliant blue that you saw in early photos of
Perito Moreno
(the prettiest glacier) near El Calafate. As you can see in this photo, the glacier is separate from the ice field above it. In between is some exposed land. As the ice field sheds some of its mass, it picks up sediment and spreads it over the glacier. So, the glacier is literally dirty.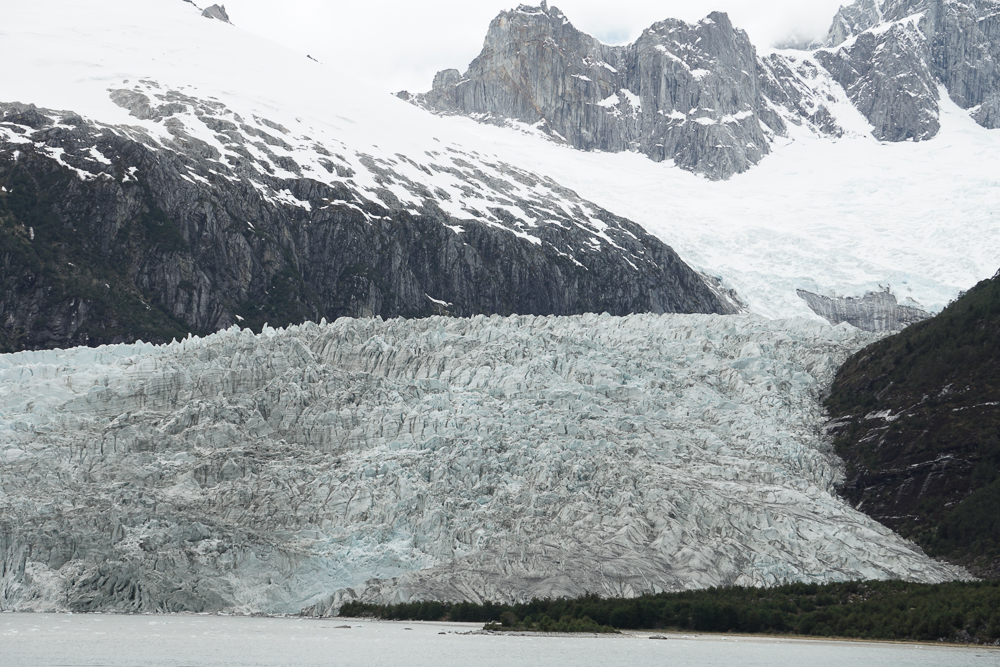 We were particularly keen to see penguins, which were on the ship's itinerary.
We visited a flock (a bobble? a waddle?) of penguins on Tucker Island, which is so small you could walk across it in five minutes. We weren't allowed to get off the zodiacs (Yield to the Penguins!), so we bobbed just offshore and watched them. They watched us back and did not seem at all discomfited at our visit. Penguins are apparently very friendly and gentle creatures and their numbers are dwindling rapidly,++ so we must not take advantage of their good nature or inadvertently put them at risk. Because their eyes are particularly sensitive to light, we also could not use flash photography in taking pictures.
Watching a group of penguins hurry toward anything — the water, their nests — is one of the most endearing things imaginable.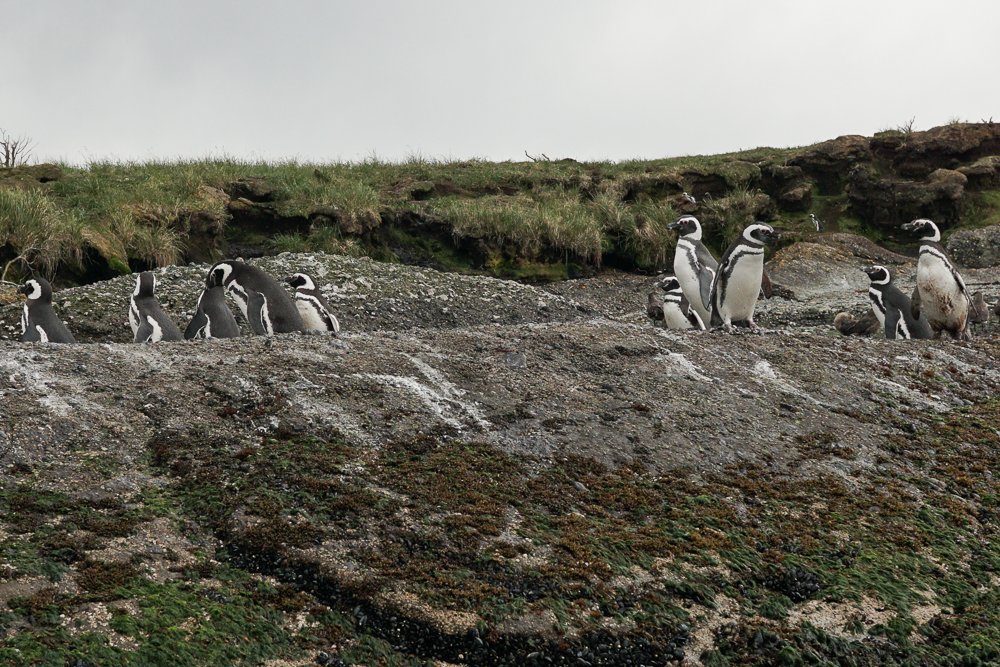 On the Stella Australis, a more comfortable vessel by all accounts, there's no internet, so it's like visiting both the End of the World (as they say,
El Fin del Mundo
) and the early 1990s at the same time. I saw Mount Darwin, which Captain Fitz Roy named after him as a present for his 25th birthday on Feb. 12, 1834. It is astonishing how young these incredibly accomplished men were at the time–Fitz Roy was about the same age as Darwin and had become the Beagle's captain at age 22.
Unfortunately I had come down with a terrible cold onboard and spent more time feeling sorry for myself in my cabin than zipping around in zodiacs with The Directrice. Hence I missed my chance to visit the Cape Horn monument, a beautiful sculpture erected to honor the estimated 10,000 people who died trying to round these extraordinarily dangerous waters between the 16th and 20th centuries. I had wanted to hold Tory's hand there and say to her, "I love you to the end of the world," but all I could manage was to sadly photograph what I could of it from the boat. So I
almost
reached the end of the world.
To modern sensibilities this plan is shockingly unethical and needless to say would never have gotten past an Institutional Review Board. In any case, it failed; they all quickly reverted to their native culture.
This is good and bad. On the one hand, I don't feel guilty or wasteful. On the other hand, I have been emboldened for future impulse purchases.
The last 24 hours in Buenos Aires have been a rampage.
+ The Photographer tells me that we did not sail around Cape Horn, which would require sailing into the Atlantic Ocean across to the Pacific Ocean in some of the roughest waters in the world. We stayed in the straits and channels at the bottom of the continent.

* If you don't know the story of Ernest Shackleton and The Endurance, take a minute to look it up and then tell me that you don't want to read a whole book or watch a whole film about it. Imagine their disappointment when the ice began to melt . . . crushing (rather than liberating) their ship.

** The life vest had numerous straps, a whistle, and a beacon. But in reality, freezing, not drowning, is the greater threat in these waters and . . . the life vest was not equipped with a space-heater.

++ These poor darlings have declined in number by 90 percent in the last 20 years. The cause is over-fishing of their waters by commercial fishermen. The governments of Chile and Argentina have taken steps to stop such activity, but it is unclear that the population can rebound.