At the start of the pandemic, I — like many — had an initial instinct to reduce spending and economize as a hedge against uncertainty. Within a few weeks (early summer 2020), it occurred to me that I had a duty to spend like a Keynesian economist on shore leave — meaning that I should invest my hard-earned discretionary spending dollars in businesses that might be particularly hard-hit by the constraints of social distancing.

This meant that I
would not
spend on clothes but
would spend
on restaurant food (takeout!) and art jewelry.
I think that The Photographer and I "ate out" more in 2020 than in other years, in part because our entertainment budget (I say that as though we actually have a
formal budget
for entertainment or anything else) was largely untouched.
Through the Internet I found a number of talented jewelry-makers and delightful gallerists and reconnected with others I've met over the years. Here is the one of my recent discoveries: a ceramic and silicone necklace by
Maia Leppo
(who is represented by
Ombre Gallery
).

This graphic necklace combines ceramic disks, threaded on a silicone cord with steel findings.

It's simple and elegant, rough and unexpected at the same time. The smooth silicone cord contrasts beautifully with the pitted surface of the porcelain beads.

The charcoal gray beads and terra cotta orange cord look sharp against white, but I bet the necklace will be equally effective (by which I mean Very Effective) against an inky black fabric (silk or satin) and medium-rinse denim.

What do you think?


Indulge me and take a moment to appreciate the closure. It's a marriage of form and function: easy for my clumsy fingers to manage and a delightful punctuation between the cord and the beads.



For those who were wondering, this is the back.


You've all seen both of these dresses several times before. They're among my favorite, and most frequently worn, summer dresses.

Doesn't the necklace give them great style?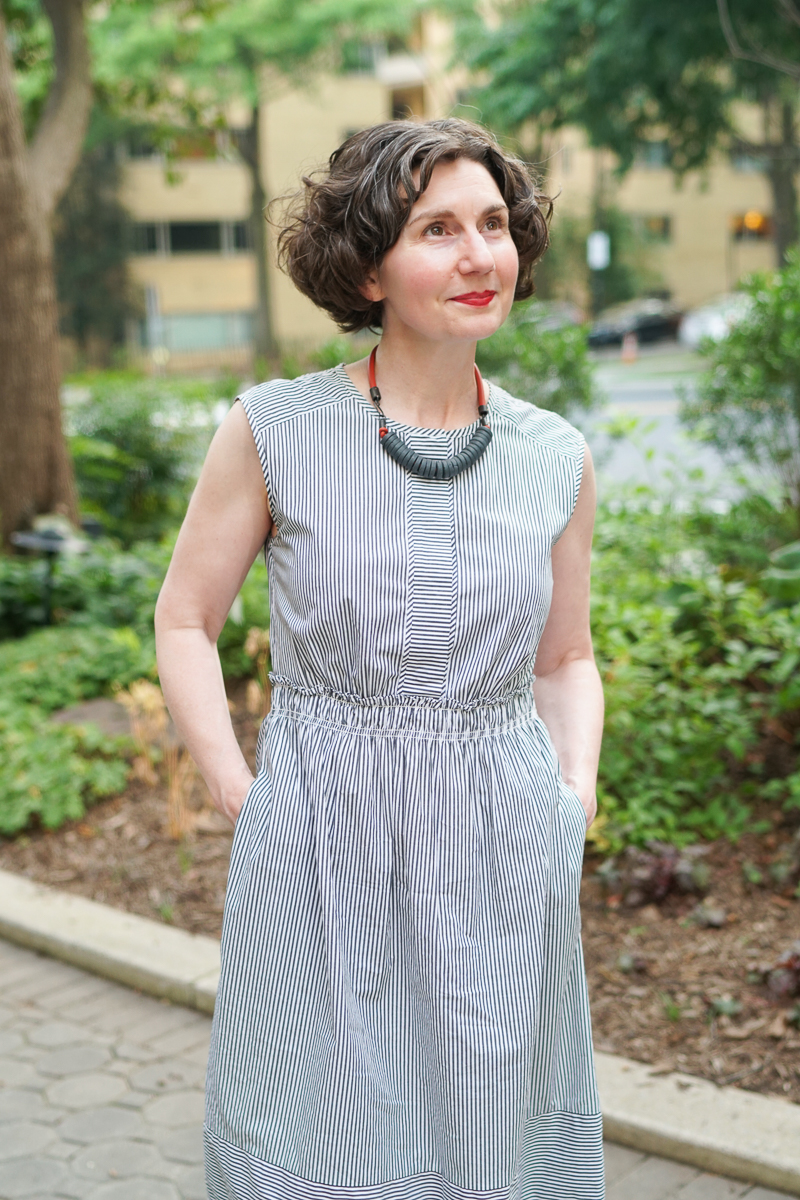 I bought this striped dress from JCrew in 2015 and have advised since the launch of this blog that JCrew's summer sundresses are deserving of your attention.
Take a look back at its previous incarnations
here
,
here
, and
here
. This dress, and the white one,* are perfect examples of a dress that can be changed with accessories.
Mind:
The dress does not become unrecognizable; it's rendered just different enough to give the impression of variety.
I started collecting art jewelry in the mid-2000s, but have become increasingly interested in, and committed to, the art jewelry ideal (mission? movement?) in the last five years.
I'll pull together a tour of my modest collection along with some additional profiles of artists and gallerists. While you wait, take a look at
this post
from 2017 featuring the marvelous Denisa Piatti and her Washington D.C. studio.
* You've seen the white dress with different jewelry
here
,
here
, and
here
. Many wearings!