Is it too early in 2019 for a retrospective?

Maybe yes, maybe no — but regardless, today we're looking back at two posts from early 2019:
The RealReal
(17 days ago) and
The Bellhop
(14 days ago).
Remember: We agreed that I could experiment with a serial format!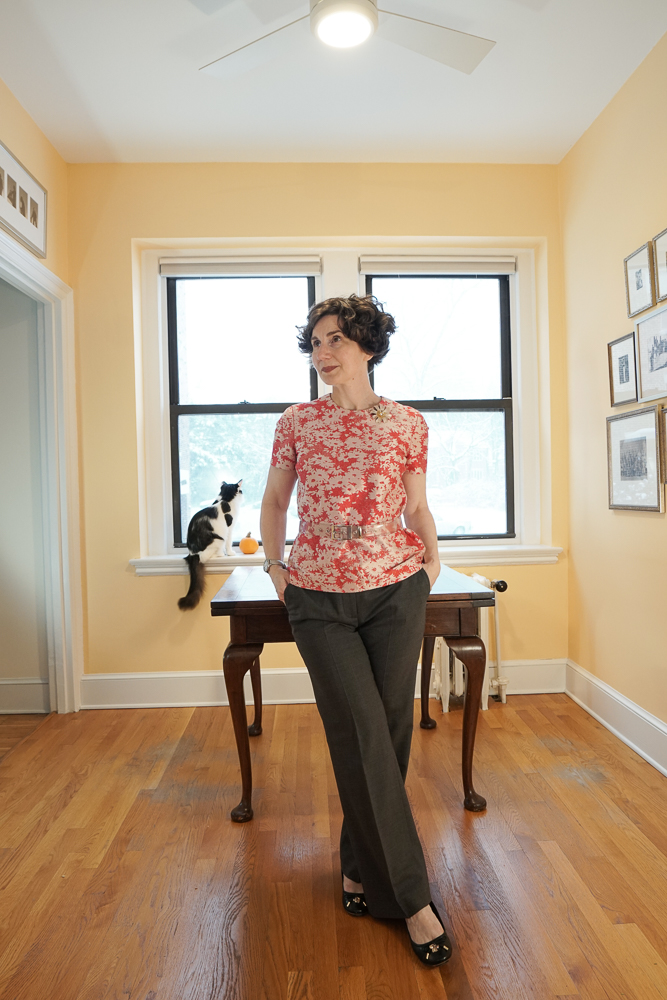 First up: Another find from The RealReal. I knew it would fit because the measurements were provided. Except that those measurements did not include the circumference of the sleeves which were extremely narrow and tight.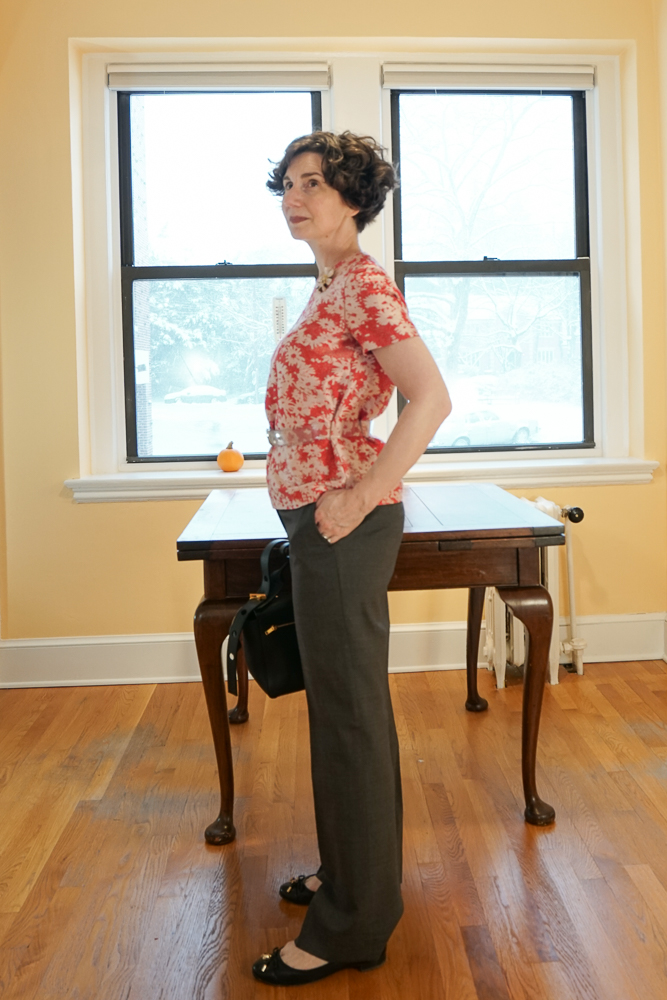 In fact, the sleeves were so tight that I got stuck in this top — could not take it off — and The Photographer had to extract me from it.

Be advised by me: If you are ever trying on a piece of clothing on and thinking to yourself, Gosh this is really hard to get into, and you are not struggling with a zipper or button, but simply trying to pull a piece of non-stretch fabric into place, STOP. Trust me on this. Getting it on is the easy part.


For fun, I added this flower brooch, which is the same shape and color as the daisies in the fabric.



On cooler days, a fitted jacket is another way to wear this top.

I removed the belt because the jacket is doing belt's work — cinching the top.



You may not have noticed, but these pants are not the pants I have previously paired with The Bellhop. They are straight-legged — not wide-legged — wool trousers.


And now, a different brooch! A vintage brooch similar in size and color to the lucite brooch shown above but very, very different.

I found this Line Vautrin (maker) Talosel (a patented synthetic resin material) brooch on 1st Dibs and was enchanted.


I cannot say why I have two pink floral brooches. We should ask my black jackets to explain.

I opened the outline for my book proposal —
The Directrice Speaks
* — last weekend and thought it wasn't bad. I incorporated
all of the ideas
that you gave me in 2017 and may be coming back for more advice soon. There is a chapter titled "Complicated Situations and Trying Times" and its subparts are Rain/Sweating/Air-conditioning/Walking/Interminable Winters and Second Summers/Office Gatherings/Travel.

Have a fantastic weekend!

Top: Stella McCartney from The RealReal; PVC Belt: Philosophy di Alberta Ferretti from YOOX; Pants: JCrew; Shoes: Taryn Rose; Figurative brooch: Alexis Bittar; Abstract Brooch: Line Vautrin from 1st Dibs
* Not actually the working title.