Today we are combining two old things — one very old, one only a few years old — with something new for a very ladylike ensemble. Such a lady!

This dress predates this blog by several years. I've shown it previously with a black jacket, white blouse, and tall boots for a professional look. A look that also calls to mind our favorite religious dynasty. . .
The Mathers
.
This blouse actually features a large pussy bow, but I did not want the bow to compete with the Star Attraction, so I tucked the ties inside the collar of the blouse. You've seen the bow
here
and
here
.
I think you can probably understand that the whole point of this outfit is the Star Attraction: my birthday brooch by
Allison Hilton Jones
.
I saw Allison's
imaginative, lively pieces
at the
Smithsonian Craft-2-Wear
show in October and ordered a piece as a special present to myself for turning 50.
Side note re dress: In previous posts, I have not worn this dress belted. But after last summer's
revelation
(I
can
add a belt to a dress that is decorated with vertical and horizontal piping), creating a little more definition at the waist seemed like a good idea.



When I told Allison that I wanted to go with white concrete — most of her pieces are made with grey concrete — she expressed some reservations. I persisted because I had an idea fixed in my mind: that white would really pop against all of my dark winter clothes.

And what additional color did I select to pop against white and dark colors? Yellow-orange!




My vision has been materialized!

I think the white pops wonderfully against the black dress. But, as always, you are the jury.
You will need to come closer to appreciate the subtlety of this piece. It's both obvious and subtle.

The concrete is not perfectly, uniformly white. It has some flecks of grey in it.

Allison pours the concrete into a silver frame, allows it to cure, and then sands and polishes it until it's as smooth as glass.
I don't usually show full-size photos, but this brooch is so special that I believe it deserves full screen coverage.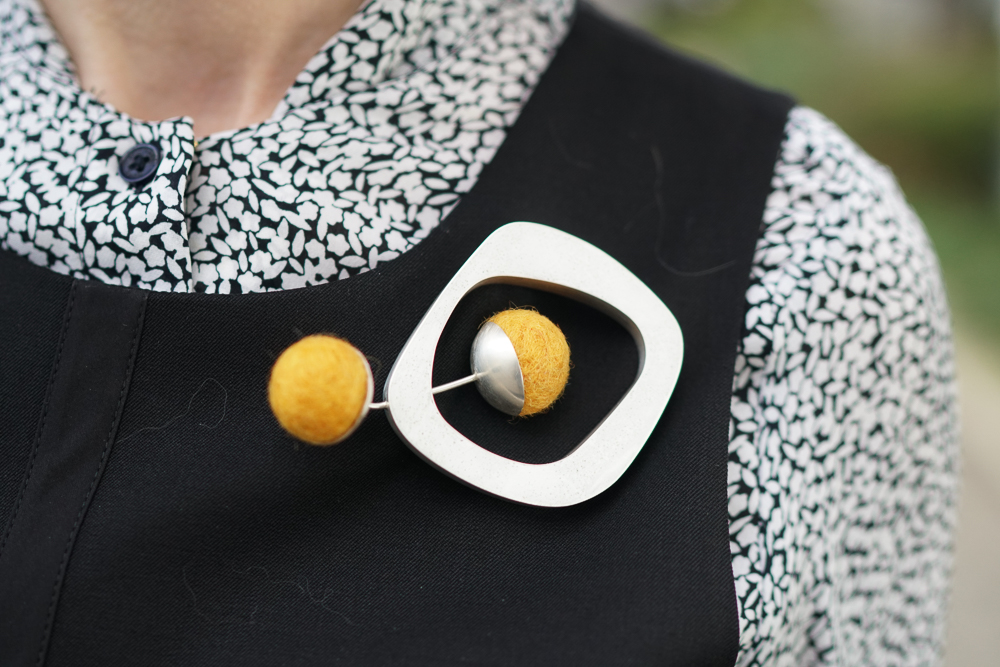 Note that the exterior felt ball is on a curved stem. The stem was supposed to be straight, but got a little bent in shipping. I could easily straighten it — it's malleable — but I've decided I like the curve.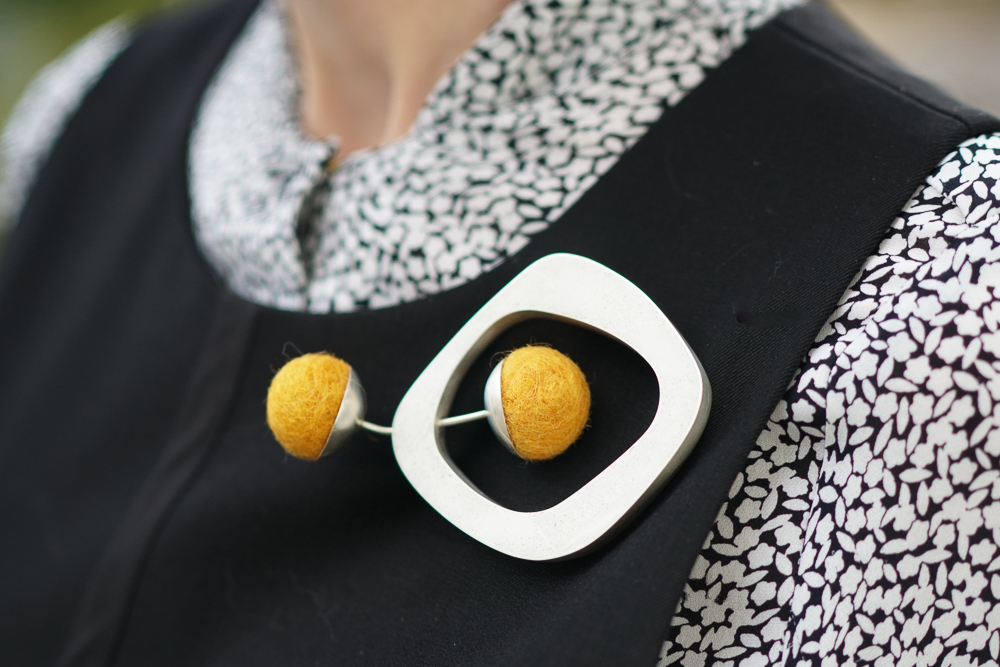 Best of all, this brooch is attached to my dress with four tiny, but very strong, magnets. The perfect solution —
Why has this not been the law for years?
— to prevent a brooch from stressing (or even tearing) your clothes. This is Allison's innovation and it is pure genius.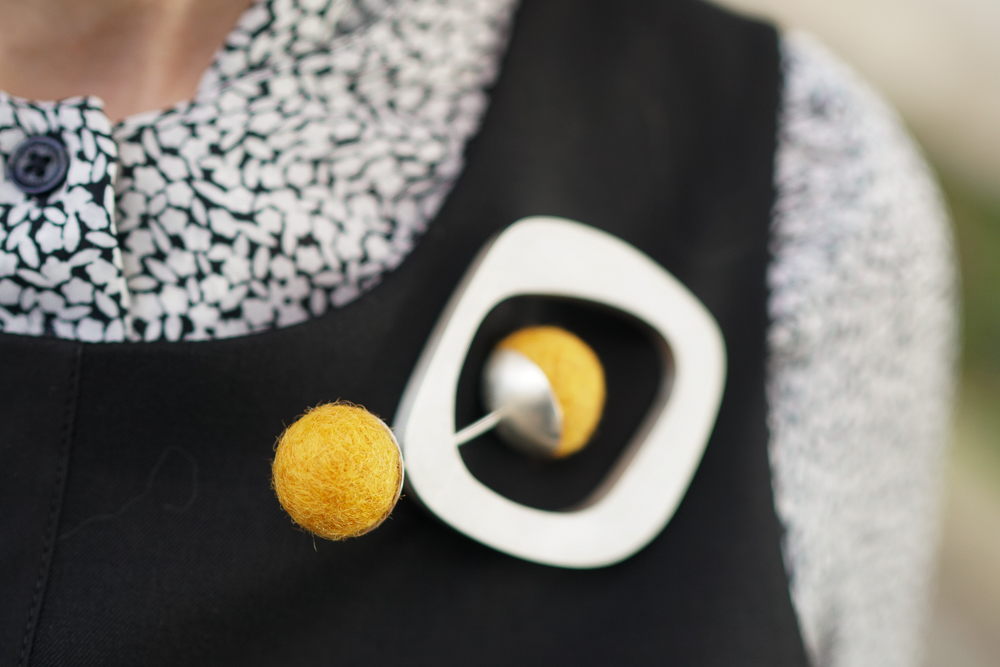 Question, Dear Readers: Something has gone kaflooey in the relationship between this blog (or possibly WordPress) and Google Chrome. When I look at these posts using Chrome as my browser, all photos are full screen and there is no text running alongside them. Photos that I arranged side-by-side do not appear side-by-side. All of my careful WordPress column formatting is gone! But my posts do look correct when I access the site through Internet Explorer. Has any other Chrome user observed a change in the formatting?
* "The Officer" is a Starfleet officer, of course.
Dress: Theory; Blouse: Michael Kors; Shoes: Fratelli Rossetti; Bag: Coach; Brooch: Q Brooch by
Allison Hilton Jones